We have an excellent group of camera operators with many years of experience in live broadcasting, corporate video, training and documentary work. We've worked on stereoscopic 3D projects, unmanned aerial cinematography, miniature camera rigging, ultra high-speed photography and underwater filming. We all have a 'can do' attitude and will get the best out of every scenario.
Whether you need a single Lighting Cameraman for an interview, a small crew for a product launch or a full OB for a sporting event, we can supply the right team for you. We also offer dry hire on all of our camera equipment.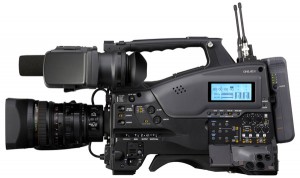 Equipment
Most of our camera work is completed with Canon's XF305 and the Panasonic GH4. We also use cinematic cameras such as the Canon EOS C300 and Blackmagic URSA Mini Pro for 4K filming. Other cameras we regularly use include our set of Blackmagic Micro Studio Camera 4Ks, GoPro Hero 4 and our Vulcan Black Widow unmanned aerial vehicle with the Panasonic GH4 and a range of Micro Four Thirds lenses.
Rate Card
Operator with Blackmagic URSA Mini Pro Camera Kit | From £500 per day
Includes:
Blackmagic URSA Mini Pro
Canon L Series Lenses
3-head lighting kit
Shotgun mic with boom
Wireless lavalier mic
Camera operator with the BBC approved Canon XF305 Kit | From £450 per day
Includes:
Canon XF305
Wide angle lense
Field monitor with wireless link
3-head lighting kit
Sennheiser MKH 416 shotgun mic with boom
Wireless lavalier mic
Vulcan Unmanned Aerial Vehicle (UAV or Drone) | From £700 per day
Includes:
Vulcan Black Widow
Zenmuse Z15 3-Axis gimbal
Panasonic Lumix GH4 Camera
Fully insured & licensed 2-man crew
Preview monitor with stand